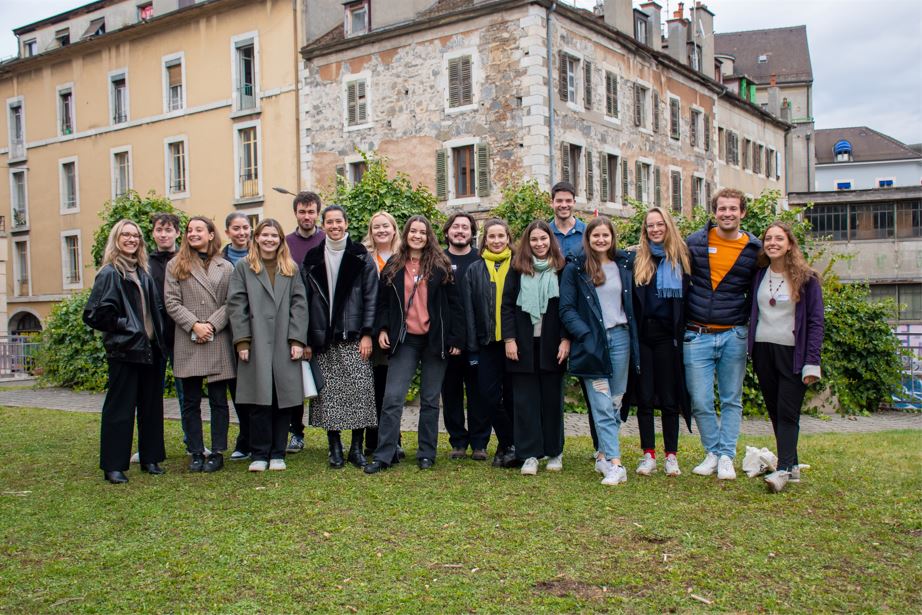 Agora has been made possible by the ideas and energy of countless people. Our thanks go to everyone who has contributed to our project and we hope that our number will continue to grow as we progress on our journey.
Ellen Groom – President
Having graduated from Business and Law at UCD, and spending time overseas in both India, Tanzania, and the US, Ellen went on to complete her master's in Public International Law at Leiden University. Since, she has worked in The Hague for the International Commission of Missing persons, and in Brussels, within the external affairs unit of the European Economic and Social Committee. She now combines her passion for international law and foreign policy within the Legal Division of the Irish Foreign Ministry. 
Ellen is keen to apply her journey so far in international affairs to her most recent role of President of Agora UK, widening opportunities for young professionals to get involved in policy making and learn how this can be applied in the future. 
Demetria Paxton – Vice-President
Coming from Bachelor's in Chinese language and politics with a focus on U.S.-China relations, Demi earned an MA in Global Governance and Diplomacy from the University of Leeds, where she specialised in the Responsibility to Protect.
Veronica Legiec – Treasurer
Veronica has a degree in Politics and International Relations from the University of Exeter. She now works in the UK Civil Service within the Ministry of Defence. 
Jana Sopf – Head of Migration Programme
Jana is a linguist and marketer passionate about advancing sustainability and human rights. She holds an MSc in Business and Marketing from Warwick Business School and a BA in Linguistics from the University of Warwick. She has worked across marketing, consulting, and the non-profit sector. Her upbringing in the Middle East sparked an interest in the field of migration, prompting her involvement with national NGOs and the UNHCR. Throughout her studies in linguistics, she researched the power of language in shaping public opinion and influcencing policies relating to migration. 
Anna Le Bars- Head of the Defence and Security Programme                                                              
Anna has an MSc in International Security, from the University of Bristol, where her thesis focused on the privatisation of security and defence, using the case study of Russian private security groups in the context of Sub-Saharan Africa and the regional and international implications these may have. She also holds a BA in Spanish and International Relations. She now works in the civil service within the Ministry of Justice in Bristol.

[email protected]  
Will Shao - Head of Agora South East
Will currently works at the Ditchley Foundation as the Technology and Democracy Networks Lead. His work in this role centres around the impact and future of emerging and disruptive technologies, including semiconductors, generational models, and XR systems.
Will holds a BA in Classics with minors in International Relations and Modern Languages from Stanford University, as well as an MSt in Classics from the University of Oxford. His thesis for the latter focused on the relevance of the Promethean myth to ethical AI.
Will runs Agora South East with the help of Lara Woo, Isabella Mawhinney, Comfort Maseko, Musa Ali, and Sophia Dong. 
Topaz Brownhall – Head of Agora South West 
Topaz is a third-year history student at the University of Bristol. Her recent dissertation focused on green capitalism through the perspective of the history of whaling. Before starting her BA, Topaz worked in Cambodia as a legal researcher on economic land concessions.
Topaz runs Agora South West alongside Isabel Jones. Topaz and Isabel are currently recruiting for other team members. To apply please email a CV and a brief description of your experience and why you would be suitable for the role. 

[email protected] 
Bradley Tait – Head of Agora London
Bradley received an MSc candidate in the Politics of East Asia from the School of Oriental and African Studies. His research focused on East Asian defence and security, with a particular focus on China. Prior to starting his MSc, Bradley lived and worked in Washington DC, where he attended George Washington University as an undergraduate, pursuing a BA in International Relations. 
Bradley runs Agora London with the help of Ben Abbott, David Lagrange, Michael Stirnimann, and Mohammad Omer Butt. 
Lauren Atkins – Head of Editorial Board
Lauren has worked in political monitoring, across a range of sectors, specialising in UK education and welfare policy. She studied Politics and International Relations at the University of Bath where she graduated with a First. Her dissertation investigated the international approach to the problem of child soldiers in modern conflict. She has also worked in the civil service. In her spare time she enjoys reading, playing netball, and BBC crime dramas.